Web Content Blocker Tier List
Jul. 14, 2022
[technology]
[privacy-security]
[libre]
Myself and others are completely serious in our resolve that we wouldn't even use the modern web if powerful content blocking tools weren't available. Which is why I advise anybody, technical or otherwise, to at least install some such addon for their browsers.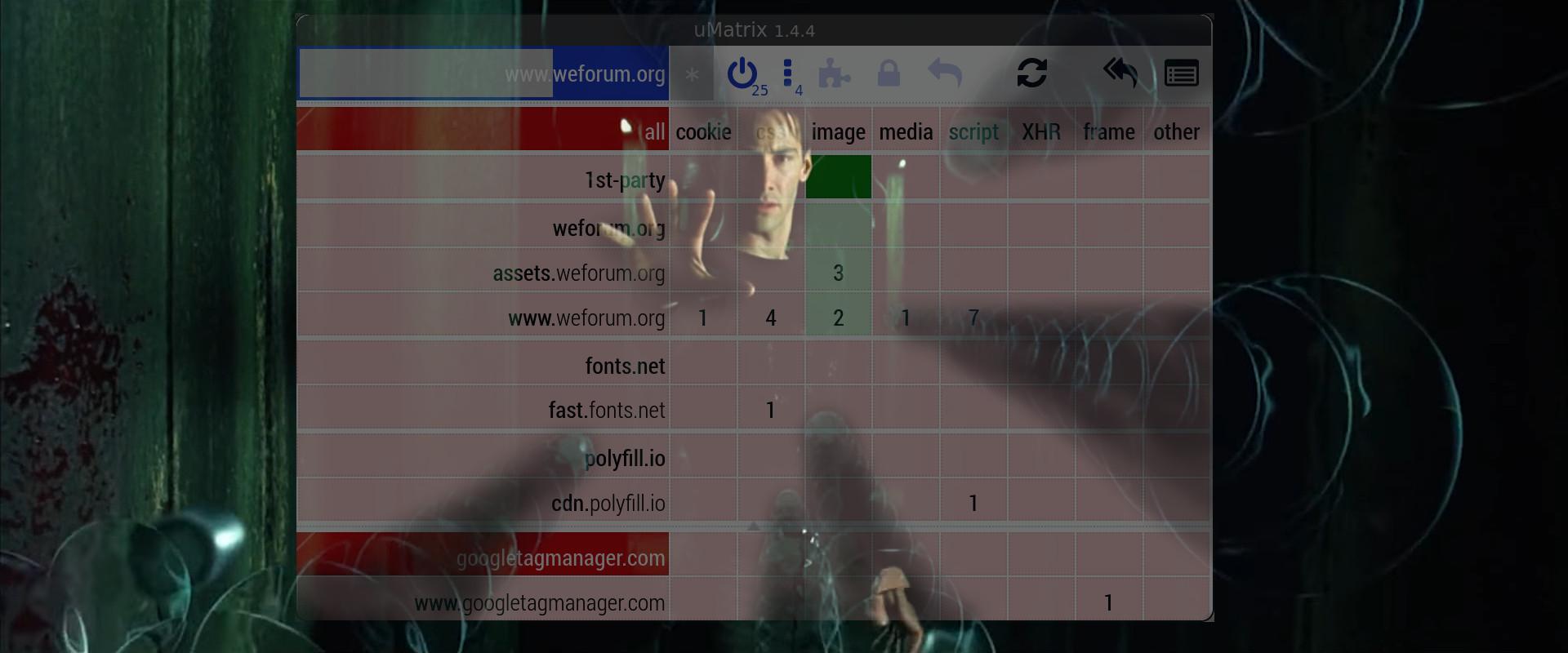 Few are great, most not so much. I rate them here based on their effectiveness in their default-deny capacity to strip pages down to plain HTML, their granularity and how well they convey information about web requests/page elements.
| Tier | Addon | Notes |
| --- | --- | --- |
| S | uMatrix | Unrivaled web page firewalling. |
| A | xiMatrix, Policy Control | Excellent and contains advanced features, but makes unfortunate design concessions. Would handily enter S tier if minor shortcomings addressed. |
| B | uBlock Origin (Advanced User Mode), NoScript Security Suite | Quite granular and informative but unable to completely block certain classes of requests. Has a suboptimal interface that dark patterns users toward unnecessary whitelisting. |
| C | HTML Content Blocker, Javascript Firewall | Reasonably capable of de-fanging sites but rather limited in scope. |
| D | uBlock Origin (Basic User Mode), Adblocker Ultimate, Adguard AdBlocker | Low capability. Heavily blocklist oriented rather than by class of request. Default deny infeasible. |
| F | Adblock Plus, Privacy Badger, Ghostery, Firefox Enhanced Tracking Protection (Strict) | Garbage tier. Major shortcomings. |
Detailed Rationale
uMatrix:
Despite being in maintenance mode, uMatrix maintains exceptional effectiveness against a wide class of web requests. It is basically a full browser firewall which can discriminate requests globally or per-domain/subdomain and each request class can be blocked individually from one another. Unfortunately, if uMatrix ever falls out of viability, we would lose an almost irreplaceable line of defense.
Policy Control:
Policy Control is one gem that left me impressed. It can block many request types including WebSockets, Ping and Fonts. There is an included logger to monitor requests and can whitelist per script within the same domain, making Policy Control unique among extensions in its granularity. Just make sure to check "enabled" for rules to apply globally. This isn't made quite clear as that field normally says "disabled" and flips when you toggle it. Unfortunately, it automatically opens add0n.com (cuckflared + googleslavemanager) after installation. Some marks against it being that there's currently no way to distinguish between third party domains and no interception is offered for cookies. Somehow only known about and used by only 791 people at the time of this writing.